By Zhou Mo | China Daily | Updated: 2017-10-20 07:39
Leading international academics from abroad join locals in proposal at debut advisory council meeting
Leading academics from abroad - among them from Australia and South Korea - joined local distinguished scholars and government officials in a call to establish a medical school at Southern University of Science and Technology.
They made their proposal as SUSTech, in Shenzhen in southern Guangdong province, held its first International Advisory Council meeting from Monday to Tuesday.
The council consists of 14 leaders of international universities from different countries and regions.
These include the United States, the United Kingdom, Singapore, Australia, South Korea, the Chinese mainland and Hong Kong.
"It is very important for a top university, especially in a very important city like Shenzhen, to have a top medical school," said Tan Eng Chye, president-designate of the National University of Singapore.
"And it is also equally important how you wish to position such a medical school," the Singaporean mathematics professor added.
"Such a medical school has to be positioned for the future, because in the future healthcare is going to be very different. It is one in which digital transformation will have a major impact."
Located in a city known for innovation, Tan said SUSTech is well-placed to set up the medical school, where sciences in engineering and clinical care could be integrated.
"It could be a model not just for China, but possibly for the world," he said.
Samuel L. Stanley Jr, president of Stony Brook University New York, said integration of research and clinical practice is the "key to success." As academic achievements made by universities need to be translated into clinical use, it is important for the two to build a connection, and a medical school provides a solution, he said.
Meanwhile Henry T. Yang, chancellor of the University of California Santa Barbara and also chair of the council, noted that the establishment of a medical school in an industrialized and world-class city with a population of 20 million was essential for SUSTech to develop into a first-class university.
SUSTech has been building its reputation, both domestically and internationally, over recent years.
The university ranked No 31 among Chinese mainland universities in the Nature Index 2017 Tables, published in August by the UK's Nature Publishing Group, moving up 24 spots forward from No 55 three years ago.
During the two-day meeting, the IAC members listened to six reports on the current situation and outlook for construction and development at SUSTech, visited and studied its environment and facilities, and provided constructive suggestions on how to realize its strategic objectives.
They performed their advisory functions in accordance with the Shenzhen Government Ordinance for the Southern University of Science and Technology (2011).
It said: "SUSTech shall form an advisory council as the advisory organ of the university with responsibility to provide suggestions to the university on major areas of interests to the university's development.
"The advisory council shall be made of domestically and internationally renowned experts, scholars, senior executives and industrial leaders, and the appointment shall be made by the president."
Shenzhen Mayor Chen Rugui, in his congratulatory letter to the event, said the council, which has gathered a number of influential and experienced educational entrepreneurs, is a top-level think tank for SUSTech's development.
It is also a major step in the university's journey towards building a modern university system with Chinese characteristics, he said.
Distinguished overseas advisory council members include leaders from the University of Oxford, the University of Michigan, Rice University and the Korea Advanced Institute of Science and Technology.
Others are from the ETH Zurich, the University of Queensland, the University of East Anglia, the Hong Kong University of Science and Technology, University of Science and Technology of China and Peking University.
Before the founding of the international council, SUSTech had already been working closely with those universities in a number of fields.
For example, it signed an agreement with the University of Queensland on jointly educating Phd students and carrying out scientific research.
Neuroscience and engineering science are the two key areas for cooperation between the two universities. There will also be PhD students jointly supervised by the two. It is expected that the first 10 PhD students will be selected by the end of this year. "It (SUSTech) will become a great university. My university is one of the world's top 100 universities," said Peter Hoj, vice-chancellor and president of the University of Queensland. "We can give a lot of our expertise to SUSTech and very soon it will be an even partnership where we learn from them and they learn from us. And together, one plus one is bigger than two."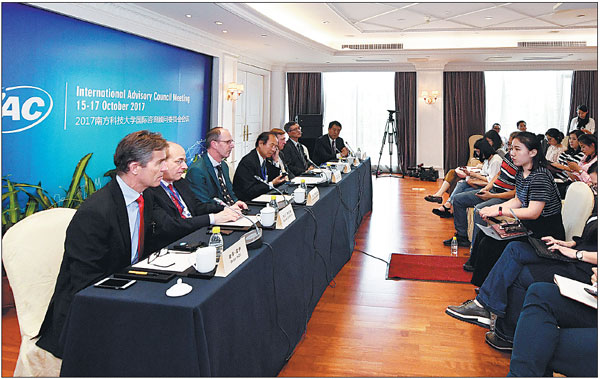 Leading academics from around the world attend the first International Advisory Council meeting in the Southern University of Science and Technology in Shenzhen, Guangdong province.Photos Provided to China Daily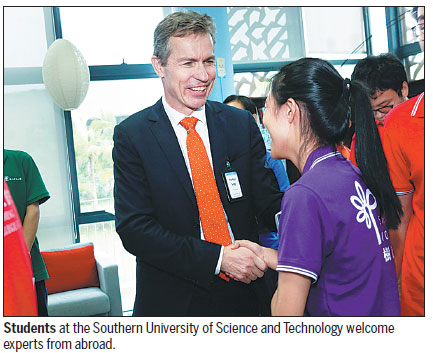 (China Daily 10/20/2017 page19)
Link: http://www.chinadaily.com.cn/cndy/2017-10/20/content_33476695.htm