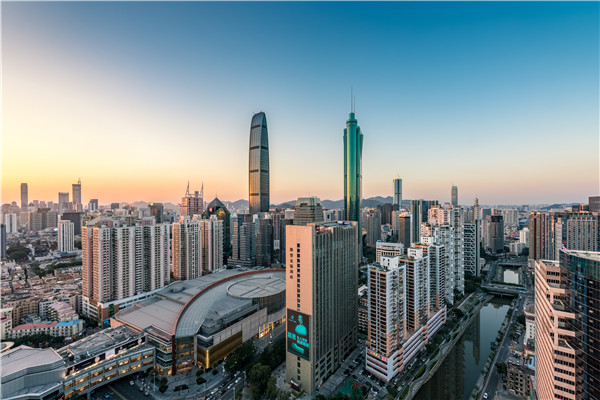 Luohu district in Shenzhen, which used to be a poor village, is now a flourishing residential area with modern apartment buildings. LUO HAIMING/FOR CHINA DAILY
Once a collection of fishing villages, Shenzhen City is now a leader in education reform and artificial intelligence, as Zhang Zhihao reports.
Like the birth of the universe, China's economic miracle, made possible by 40 years of reform and opening-up envisioned by late Chinese leader Deng Xiaoping, also began with a big bang.
On July 8, 1979, a huge explosion blew up mountains in Shekou, a small village in southwestern Shenzhen, Guangdong province. The flattened land and scattered earth, used to fill in the sea, were used to create infrastructure for China's first special economic industrial park.
When Shenzhen took off as one of China's first special economic zones in 1980, its GDP was less than 200 million yuan, or less than 0.2 percent of that in neighboring Hong Kong - one of the world's wealthiest cities.
By 2017, Shenzhen's GDP was more than 10,000 times bigger, reaching 2.2 trillion yuan ($344.6 billion) - nearly the same as Hong Kong's - making it the third-richest Chinese mainland city, behind Shanghai and Beijing, according to the National Bureau of Statistics.
"The success of Shenzhen proves that reform and opening-up is the correct path for building a strong and wealthy nation," said Wang Weizhong, the city's Party chief.
With strong leadership and support from the Communist Party of China Central Committee, the people of Shenzhen were able to carve out a path toward prosperity with forward thinking, innovation, and inclusive, reform-focused policies, he added.
At first, Shenzhen's fortunes were made mostly through labor-intensive manufacturing, producing goods from clothes to electronics for foreign brands. But in the past decade, Shenzhen has become the epicenter of China's technology and finance boom, with a focus on making advanced, high-value products.
The metropolis of more than 12 million people, with an average age of around 33, is now home to more than 11,000 national high-tech enterprises, ranging from biotech to advanced electronics, according to Shenzhen's statistics bureau. Tech giants such as Tencent, Huawei and ZTE have made Shenzhen their headquarters and the city is forging new ground in education and artificial intelligence.
Talent from around the globe is flocking to Shenzhen to take advantage of its well-established manufacturing and transport infrastructure, proximity to Hong Kong's financial services, and better living conditions and air quality than other megacities such as Beijing and Shanghai.
Seeing Shenzhen's current prosperity, it is hard to believe that just a few decades ago it was a collection of desolate fishing villages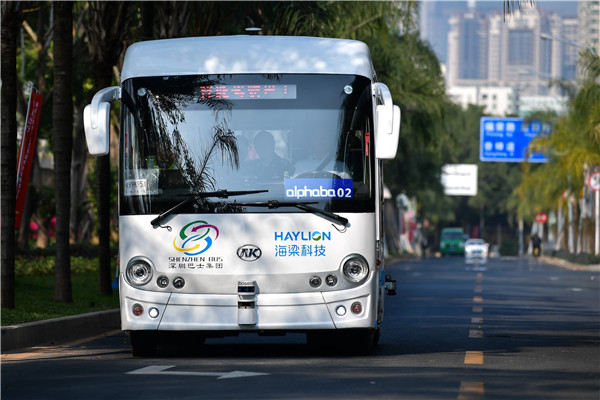 A self-driving bus in a trial operation in Shenzhen. A driver can take over the controls to deal with an emergency. GETTY IMAGES.
The good life
Wu Jinqing, 80, said the good life he is now living in Yumin village, in Shenzhen's Luohu district, was unimaginable when he was a child.
The barren fishing hamlet that Wu grew up in is now one of the richest villages in China, with high-rise apartments and modern security systems. He earns around 600,000 yuan a year from his share of the rental income from properties owned by the village.
"We used to live on our fishing boats and feared typhoons the most because we couldn't stay on the boat when they hit," Wu said.
Wu was around 10 years old when he traveled with his parents on a 5-meter by 2-meter fishing boat from Dongguan, north of Shenzhen, in search of better fishing spots. The boat was their entire livelihood and Wu's family had only 2 square meters of room to live in because the rest of the boat was filled with fishing equipment.
Yumin village is near the northern border of Hong Kong. "At night, villagers could see the city lights from Hong Kong. Modernity felt so close that we could reach out and grab it, yet it was so far away," said Huang Xingyan, the deputy general manager of Yufeng Asset Holdings, the village's property manager.
The village's fortunes changed dramatically in 1978. Thanks to flexible pilot policies, villagers began conducting limited business with Hong Kong, and soon organized transport lines to support Yumin's booming fish farms and manufacturing industries.
By the early 1980s, villagers had televisions, fridges, stereos and electric cookers - all luxuries at the time. While other Chinese citizens earned around 900 yuan a year, Yumin villagers were earning more than 10,000 yuan, according to the National Bureau of Statistics.
In 1992, Yumin villagers experimented with community management by forming Yufeng. Each villager then became a shareholder in the company. Shenzhen's economic boom saw demand for rental properties soar, and Huang said the villagers all receive hefty dividends each year.
Xi Jinping, general secretary of the Party Central Committee, visited the village in December 2012 and expressed his interest in its development and living standards. Xi also asked the villagers to continue their reforms and innovate to improve their lives.
Since then, the village has finished building a 430 sq m day care center for the elderly and implemented cellphone scanning and smart cameras to register and keep track of visitors and improve security, Huang added.
Wu lives in a comfortable, 120 sq m apartment with his wife, and the money he has earned helped fund his three sons' education and businesses. "Without reform and opening-up, we would not be able to enjoy the good life we have now," he said.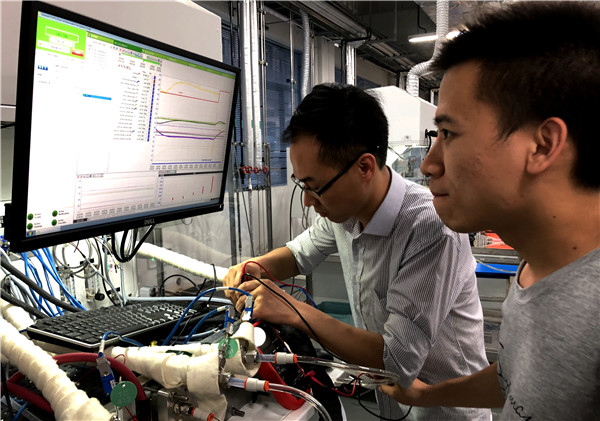 Two students from Southern University of Science and Technology test a battery module for electronic vehicles. ZHANG ZHIHAO/CHINA DAILY
Education reform
Talent has been key to Shenzhen's development, but the prosperous city lacked indigenous high-level research and education institutions, which limited its ability to produce quality talent and original work.
To remedy the situation, the Shenzhen government established the Southern University of Science and Technology, known as SUSTech, in 2011 to cultivate innovative minds in the fields of science and technology and serve as a testing ground for China's most radical educational reforms.
SUSTech now ranks as the third-best university in Guangdong and 43rd in the nation in terms of overall rating, but it tops the nation in terms of the quality and influence of the scientific papers it produces, according to the Academic Ranking of World Universities.
"Thanks to reforms, SUSTech has completed 50 years' worth of development in just seven short years," said Li Fengliang, the university's deputy Party chief.
Li said the university's reforms are in line with fulfilling the "three No 1" principles coined by President Xi in March. They are that development is the No 1 priority, talent is the No 1 resource, and innovation is the No 1 driving force.
The reforms at SUSTech range from student admission to school administration, Li said, and the "experience learned here will be invaluable in improving China's overall higher education system".
There were around 26 million college students in China last year, with the ratio of professors to students at a university is typically one to several hundred. Yet, at SUSTech, the ratio is around 1 to 10, Li said.
SUSTech has around 4,300 students and 500 faculty. The students are accepted based on a unique "631" criteria, which means 60 percent of the decision is based on grades from the college entrance exam, 30 percent on SUSTech's own entrance exam, and 10 percent on the student's high school grade.
Teachers are also hired differently compared with other schools. Not only do they need excellent academic and research abilities, it is also key for them to have teaching experience in top foreign universities, Li said.
SUSTech is one of the few universities in China with a contract and tenured faculty system, and it can provide housing, funding, laboratory space and staff, legal services for intellectual property and patents, and various perks to researchers.
"Research, innovation and entrepreneurship are our three tenants," Li said. "These services ensure researchers have all the necessary tools to innovate and foster an open and collaborative environment to conduct interdisciplinary work."
SUSTech also encourages researchers to turn their research into real products. In 2012, He Jiankui, an associate professor, founded Direct Genomics with resources and experts from the university to produce a new gene sequencer for medical use.
In 2015, the company created Asia's first third-generation gene sequencer - GenoCare. The new machine can greatly reduce the cost of analyzing genes, allowing more accurate and affordable early diagnoses for cancer and other genetic diseases.
"Start up companies are risky," He said. "But I really appreciate the school giving me the green light and resources to pursue my dream."
AI advances
On the afternoon of Jan 26, 2017, the police bureau in Shenzhen's Longgang district received a call from a worried father who said his 3-year-old son had been kidnapped.
The police reviewed security footage of the area where the child was last seen and found that a middle-aged woman had taken him. Through facial recognition software, they were able to identify the woman and track her to the railway station, where she boarded a train to Wuhan, Hubei province, about 1,000 kilometers away.
The Shenzhen police contacted security staff at the railway station in Wuhan. At 6 am the next day, the woman was caught on the train and the child was flown back home. The entire rescue, from the father's call to returning home, took just 15 hours.
It is just one of thousands of cases where artificial intelligence from IntelliFusion, a tech company in Shenzhen, has helped solve a crime. Since the start of 2017, the company's facial recognition and security cameras have helped solve more than 4,000 cases throughout Shenzhen, 500 of them criminal ones.
"Reviewing security footage with human eyes is very time-consuming, and lighting, shadows, and other factors can greatly effect accuracy and efficiency," said Chen Ning, the company's founder. "But AI is tireless and adaptive, it can find the right suspect from billions of photos in seconds, and cross-check thousands of photos to piece together a suspect's obscured features."
AI will dramatically improve the efficiency of police work and urban management, especially in crowded area such as airports, train stations and shopping malls, Chen said. The system has now been implemented in 20 major cities and provinces throughout China.
However, AI development requires collecting and analyzing a large amount of data, which raises fears of data breaches and invasion of privacy, he added.
"Our company cannot succeed without the necessary policies, regulations and infrastructure to support integrating AI into government work and our daily lives," he said.
"Thankfully, Shenzhen's government officials appreciate new science and technologies, and they are willing to work with companies and experts to make them as safe and beneficial to society as possible," Chen said. This included building new security measures, authorization protocols, and secure terminals to access image data, he added.
"I think what makes Shenzhen so attractive to talent is that there is generally an inclusive, 'can-do' attitude in the city's DNA," Chen said.
In the Futian Bonded Zone, four self-driving buses are being tested in a trial operation. By the end of the year, four more will be added, said Hu Jianping, the president of Haylion Technology, the bus' developer.
Launched in December, the 1.2 km bus route was the first in the world to run autonomous buses. The smart buses, about half the size of a regular bus, are designed to run at speeds of up to 30 kilometers per hour.
Equipped with sensors, cameras, and GPS antennas, the buses can avoid hitting pedestrians, vehicles and barriers, safely change lanes and stop at designated locations, though a driver still needs to be at the wheel in case of emergency.
"The main purpose of public transport is to reduce the number of cars on the road, as well as save space for parking, therefore making traffic flow more smoothly," Hu said.
The recent fatal crash of an Uber autonomous car in Arizona, in the United States, raised concerns over the technology's safety and led the state to ban autonomous vehicles from its roads indefinitely. Shenzhen is supporting work to make them safer.
"The safety of autonomous vehicles has always been the company and the government's top concern," Hu said. "But instead of banning new technology in the face of controversy, the Shenzhen government has been supportive in making it safer through more trials and regulations."
English Report by Zhang Zhihao (China Daily)