By Yuan Shenggao | China Daily | Updated: 2017-10-20 07:39
The Southern University of Science and Technology, or SUSTech, a public university in Shenzhen, was launched in 2011 as an experiment for China's higher education reform, and it has since made a world of difference.
Its aim was to be a top-tier international university that excels in interdisciplinary research and nurtures innovative talent - with the additional lofty ambition of delivering new knowledge to the world.
Over the past few years, SUSTech has been successfully achieving a global impact.
According to the newly released Nature Index 2017 Tables - a benchmark measuring the quantity of high-quality research output by institutes and universities - SUSTech was listed among the top 500 universities in the world for the first time.
In addition, its ranking among Chinese mainland universities has improved from No 55 to No 31 in three years.
University management attributes the impressive improvement mainly to an excellent faculty.
By September 2017, the university, which has a total of 4,000 students on campus, hired more than 300 faculty members.
Of these, more than 90 percent had working experience abroad and at least 60 percent had worked or studied in some 100 leading international universities.
Faculty members include 18 Chinese and foreign academicians, of whom seven are full time staff. More than half of the faculty members are nationally endorsed experts.
SUSTech strongly encourages innovation and entrepreneurship among its faculty.
It has developed the "SUSTech Interim Measures on Faculty and Staff's Entrepreneurship Program," which brings entrepreneurs in for a day each week, helping academician transfer their expertise and research into commercial applications.
For example, the Department of Biology's Associate Professor He Jiankui has founded Direct Genomics Co.
Its focus is on the research and development of a third-generation single-molecular gene sequencer. The only one of its kind that has been put into clinical application in the world, it has the highest levels accuracy, which can greatly reduce the cost of gene sequencing. It has gained widespread attention from the industry and the community worldwide.
Internationally, SUSTech has established close bonds with a number of renowned universities and scholars.
In 2016, Nobel laureate Professor Robert Howard Grubbs co-founded the Grubbs Institute Shenzhen with SUSTech, a university-based scientific research center. It also signed an agreement with the University of Queensland on strategic cooperation and joint doctoral training programs.
According to statistics released by the Ministry of Education, last year SUSTech was listed seventh in the country in terms of per capita scientific and technological funding, at around 830,000 yuan ($128,000).
As a research university, the quality of the students at SUSTech has reached a new level.
In 2017, more than half its graduates went on to further studies in leading universities in and out of China, such as the University of Cambridge and the University of Oxford in the United Kingdom and the University of Chicago in the United States. For the graduates who decided to work, more than 90 percent chose to work in Shenzhen or the surrounding area, and more than 40 percent were employed by China's leading high-tech and telecommunications companies, including Huawei, Tencent and ZTE.
SUSTech also vigorously explores new training mechanisms, and has established joint programs with many top universities from China and abroad. These include Peking University, Harbin Institute of Technology, as well as over 10 leading institutes in the US, the UK, Australia and Singapore.
In 2018, SUSTech will host the Times Higher Education Asian University Summit, an event that will take place in the Chinese mainland for the first time.
It will bring together educational leaders and scholars from around the world, as well as political, social and cultural leaders to discuss the future of higher education.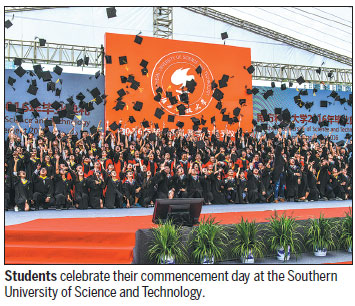 (China Daily 10/20/2017 page19)
Link: http://www.chinadaily.com.cn/cndy/2017-10/20/content_33476696.htm